Remote Pre-Ordering SS21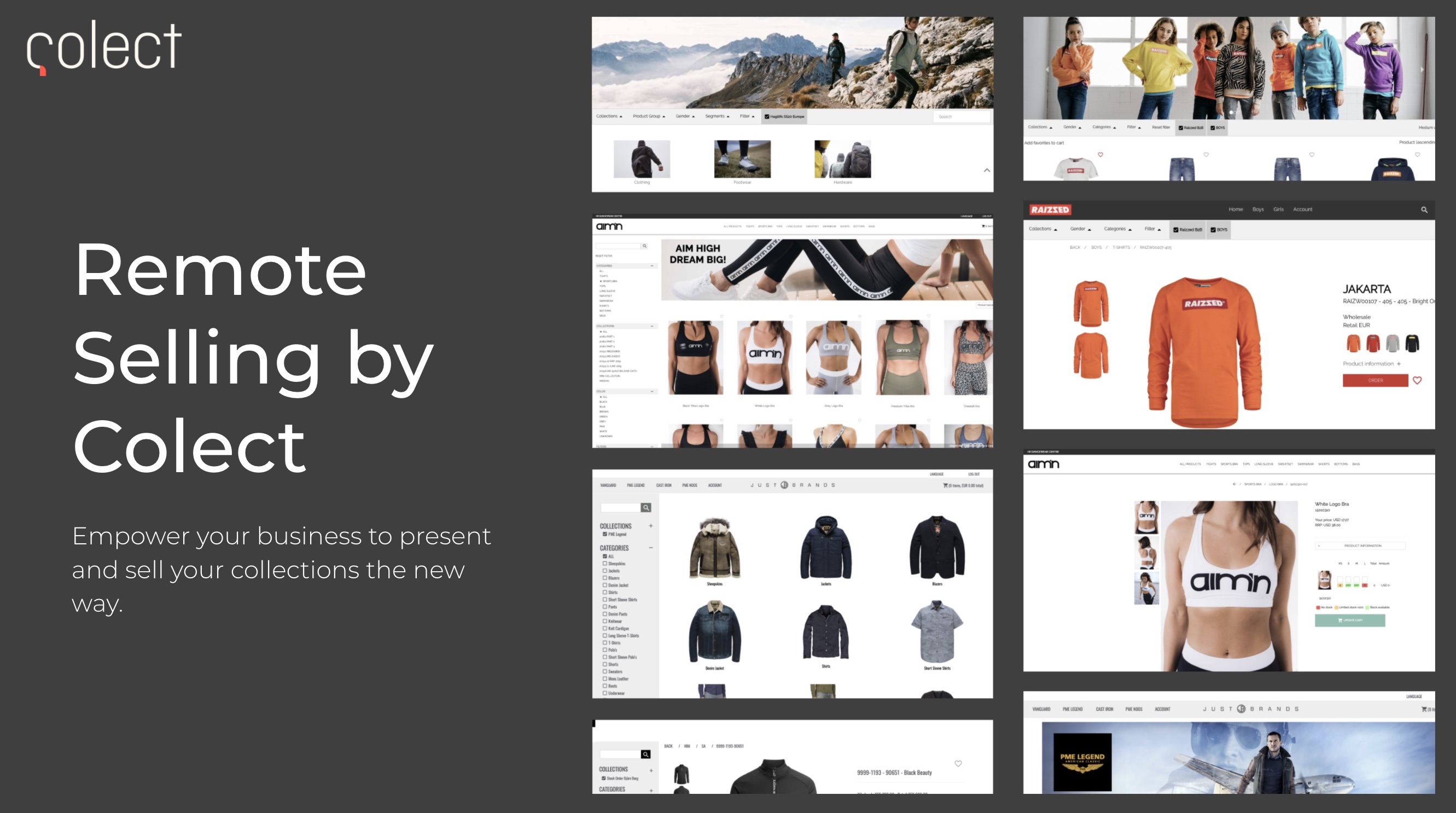 With the upcoming pre-order season and the current limitations regarding retailers to visit their suppliers, we want to showcase the remote pre-ordering scenarios. The Colect platform includes several features and tools that enable guided as well as self-service remote selling, both for pre- and reordering.
Over the last days our development team has been working on an agile setup to fast-track brands for remote selling.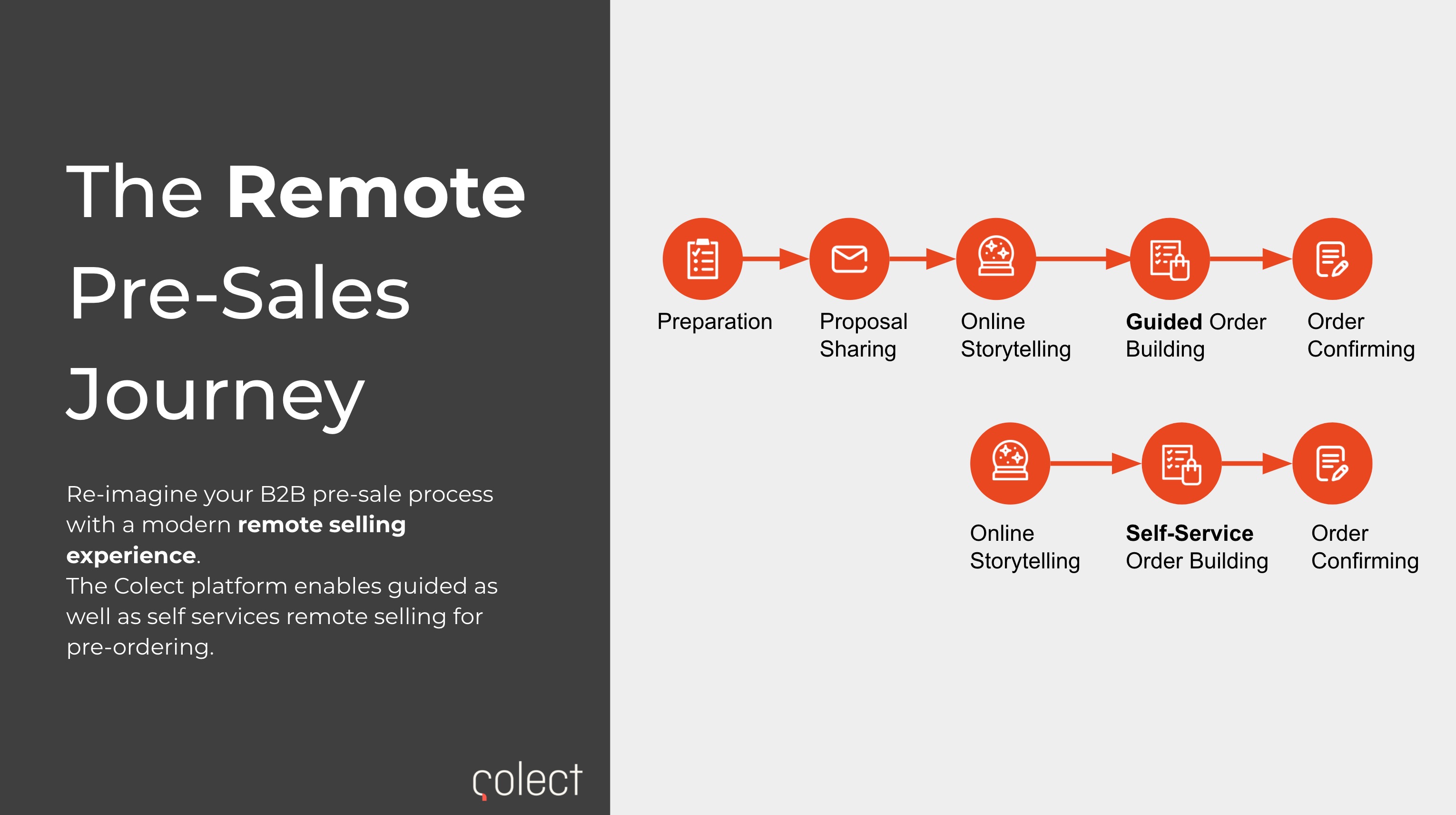 Preparation, building assortments and sharing order proposals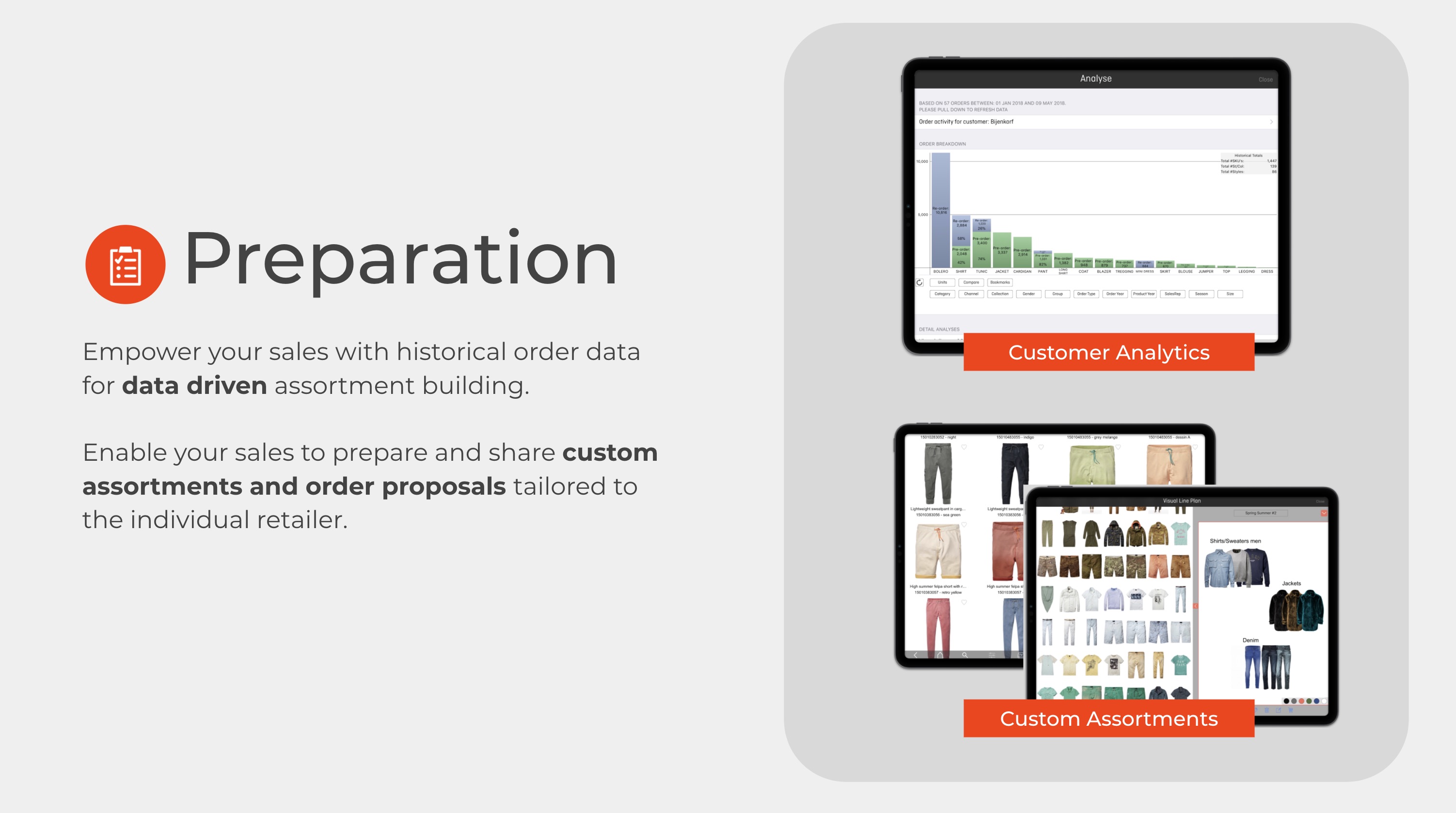 Build a custom assortment in the your Sales App by using historical order details and the visual line plan. With a custom assortment you can create your order proposal and share it with your customer by sending a link to the order.
By choosing the "Share Order" option in the shopping cart and selecting the "Export Order Link", the content of the shopping cart (with or without qty's) can be forwarded by email to your retail customers. After clicking the link, the assortment selection or order proposal will be presented to the retailer in the B2B Webshop allowing review, adding products, edit qty's and confirm the order.
Online Storytelling with Shop-The-Look (NEW)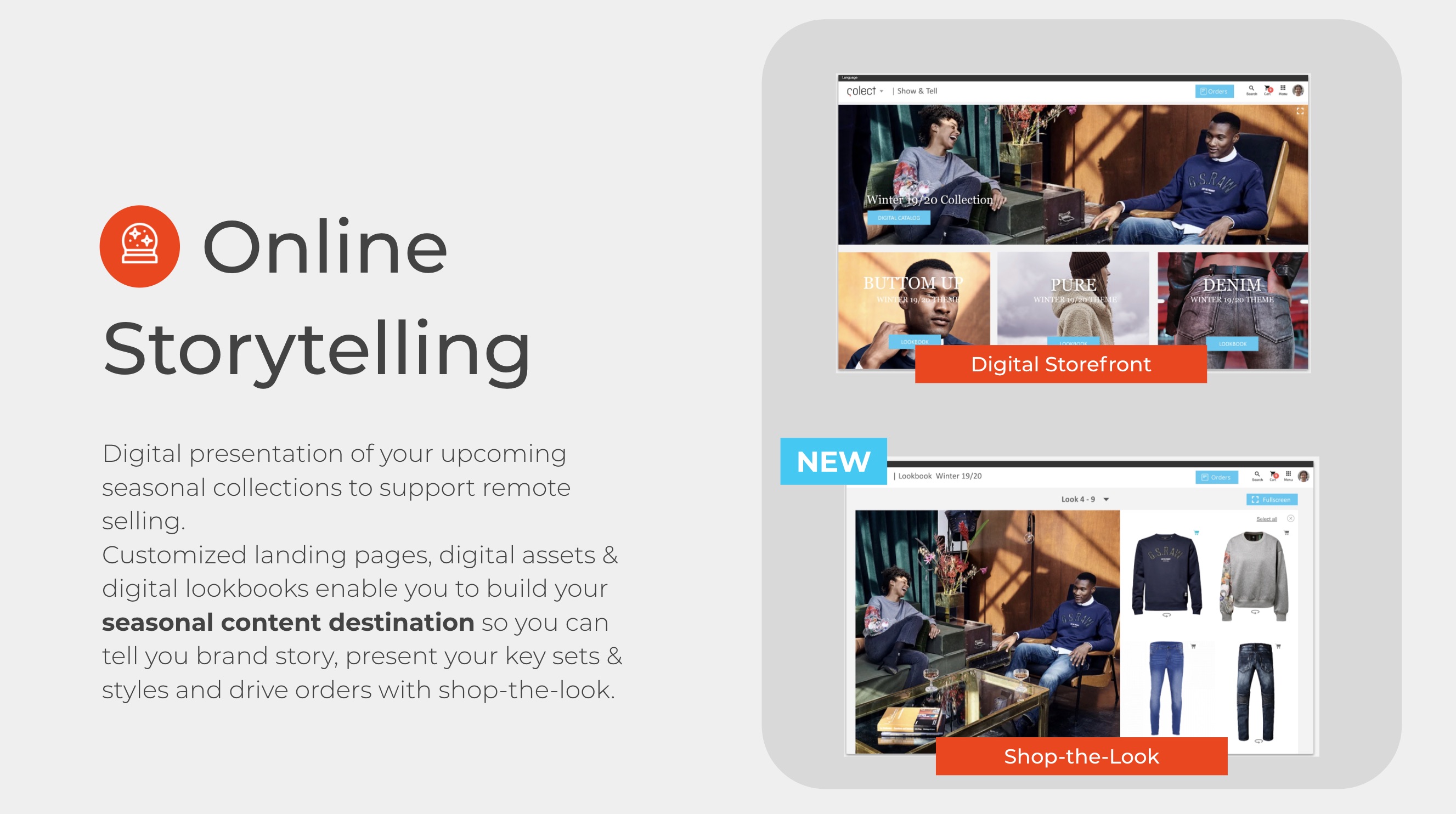 The "lookbook" feature available in the Colect Sales App has proven to be an efficient pre-order tool for storytelling and upselling by presenting key-styles in a complete look. With the current need for remote pre-ordering we have put serious effort in building this great tool into our B2B Webshop template.
Order Building by remote self serviced pre-ordering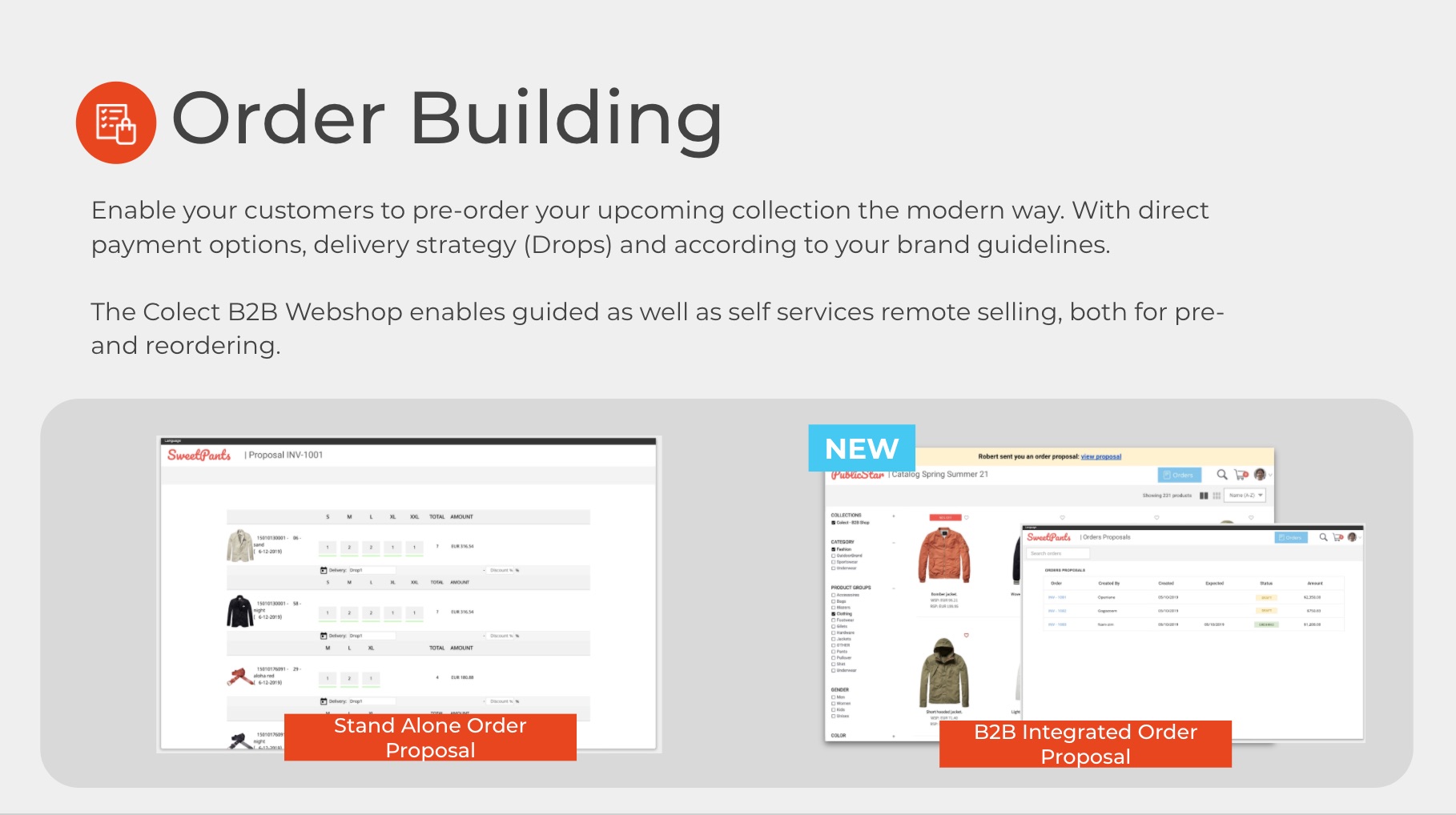 The Colect B2B Webshop provides your B2B customers with remote access to specific product assortments. Next to the usual stock ordering in these webshops, it is also possible to publish your pre-order assortment(s) enabling the intake of your SS21 preorders despite the current limitation for your retail partners to meet face-2-face.
Already have a Colect B2B Webshop?
If you already have a Colect B2B Webshop in place, you can publish your pre-order assortment straight away by following the same procedure as you do for your stock assortments. If your need any assistance please contact our support team support@colect.io or your local support center.
No Colect B2B Webshop yet?
For our customers that don't have Colect B2B Webshop yet, we have developed a quick way to setup a webshop template for you within just one day for a friendly onetime fee. This template allows you to upload your own brand and product content, such as brandlogo's, banners, multiple product images, lookbooks, product-/brandmovies and other assets. Interested? Please contact us at sales@colect.io or reach out to your local support center.
With this toolset we aim to support you and your retail partners in these challenging times.
Warm regards, The Colect team
Easy. Intuitive. Amazing. See it in action
Get a Demo