What Are Business Rules?
Business rules are often confused with business strategies, but contrary to strategies, business rules are directive in nature and function as the rules of thumb for your business. Consider them a blueprint for all sales-related operations and processes.
Whether you're starting your business just now, or have been building your brand for years, the following list of business rules for digital B2B sales is meant to help you think deeper and better about the way you can best serve your clients digitally and how your sales team engages with clients.
Rule #1. Customized Accessibility For All
Your clients are most likely a diverse group of people with different roles and responsibilities. Providing them with the appropriate settings that match their profile is more than a good way to start; it's a prerequisite.
So, what would customized accessibility look like? The most obvious interpretation of this first business rule is to enable client-specific settings and profiles.
Colect's sales platform provides you with the option to set customer access rules to give specific users different rights and accessibility. You can specify their access to clients, collections and even products to ensure the sales process runs as it should for all parties involved.
Thanks to the Order on Behalf functionality, a sales representative can place an order on behalf of his or her colleague and work with their specific client portfolio when needed to promote progress.
When it comes to pricing and payments Colect helps you to keep things smooth and safe. Working with pricing and margin groups automatically generates the right prices and discounts for your clients. In terms of payments you can indicate which clients or client groups should pay directly and who should order on invoice.
Rule #2. Smart Collection Suggestions
While all 7 business rules serve the same purpose of increasing digital sales, this second rule has the most direct connection to that goal. If you work with smart collection suggestions, your client is automatically more inclined to expand their order.
Examples of smart collection suggestions are for instance a highlighted key look instead of just one product, or suggested related products that pop up under the product detail page or key look.
The related products and key look suggestions work based on the tabs and filters you assign to your collections and can be based on drop, theme, price point or any other qualification you see fit.
Colect allows you to work with Custom Filtering. The filtering options are endless and completely up to you as an admin user. The filters you use can run into thousands if you wish and are a great way to create structure.
Another great way to quickly navigate through products and collections is Tabs. Using Tabs creates shortcuts to specific product listings when using the Colect Sales App. Navigate quickly to your desired fabric, theme, delivery drop, gender, you name it.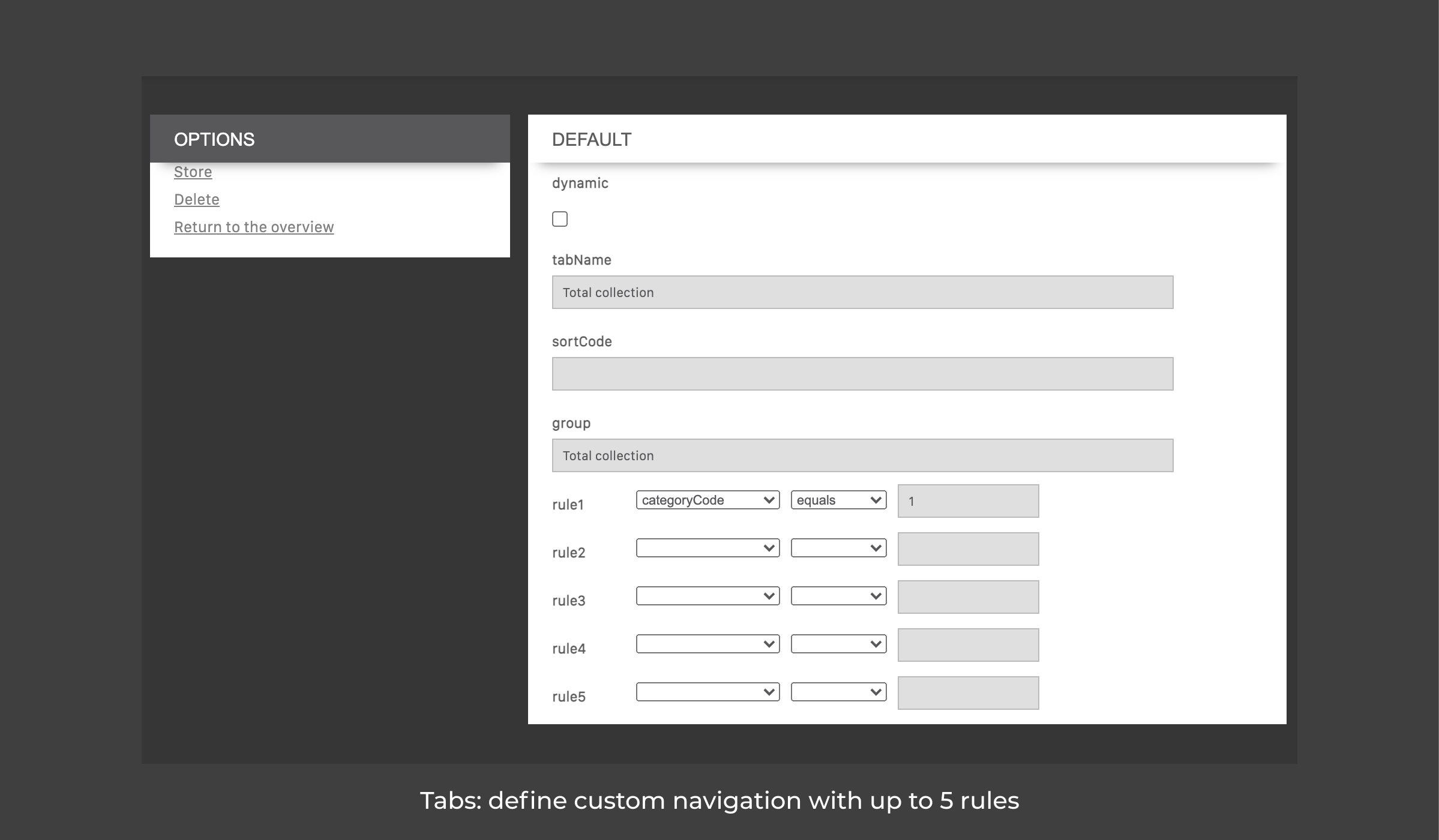 On a deeper level smart collection suggestions can revolve around a predetermined way to showcase your collection. Colect puts this concept into practice with so-called backend sorting that determines which products are shown first to your clients. It's the digital version of merchandising and inspired by B2C marketing and works using article numbers, article names or sorting codes.
Rule #3. Attractive Pricing
We don't have to tell you that pricing matters. We do however feel the need to share that attractive pricing as a business rule can help you to incorporate the right kind of pricing strategies into your way of doing business.
What type of pricing works best for your brand depends on many factors. Whether you work with discounts, volume-based pricing or a combination of these, it's key to give your client the feeling that they struck a good deal.
As mentioned in rule #1, Colect enables you to create client specific rules, determining rights and benefits per client or client group. In pricing this is especially relevant, it ensures that customer specific sales contracts are followed and the appropriate order conditions are applied when it comes to pricing, discounts and budgets.
Colect thinks along with you by automatically ensuring the right price is calculated in the final order with live price checks. Whether you're dealing with normal orders, consignment orders or shop-in-shops, pricing will be on point.
Rule #4. Simple & Seamless Order Process
A digital process should first and foremost be easy and intuitive. If the order process is simple and seamless, your client is more likely to make a sale. That is why Colect focuses on maintaining an intuitive flow that directs the client from ordering to billing to shipping in the most natural way.
We've developed several features that can contribute to delivering this effortless sales experience. Colect's products support prepacks, for instance, to guide your client towards ordering an ideal assortment. Custom choices are supported too; ideal for products that fall outside the standard color and fabric options.
Colect facilitates a seamless order approval process and allows you to apply an approval flow to ensure maximum digital security. DocuSign is integrated in the Colect platform to legally secure this process.
To prevent delay or disappointment, the product status is automatically included in the sales process to indicate availability with end of date products, season start dates and season end dates.
Efficiency is paramount at Colect, that is why you can write multiple orders simultaneously or place the same order for multiple clients.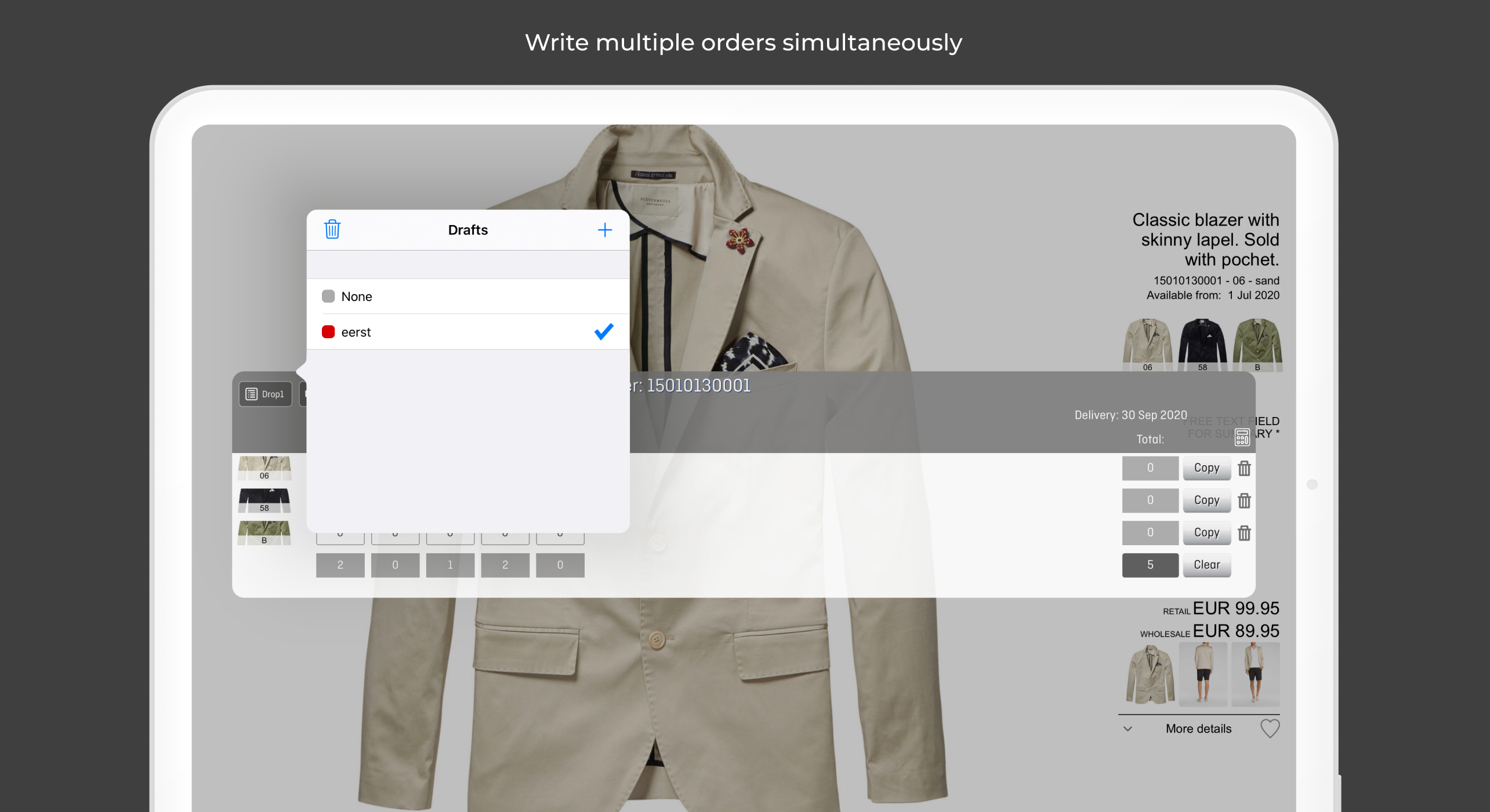 Rule #5. Ship Fast, Deliver On Time
This rule may sound obvious, but fast shipping and delivery should definitely be incorporated into your business rulebook. Having a reliable order and inventory tracking system is essential to keeping up with your clients expectations in this department.
Colect's products provide you with all those necessary insights and functionalities concerning stock, shipping and delivery, including some extra options such as sending orders to multiple ship-to's and preordering per future delivery window.
With the future stock functionality, we even take it one step further and allow your clients to reorder items that will be in stock in the near future.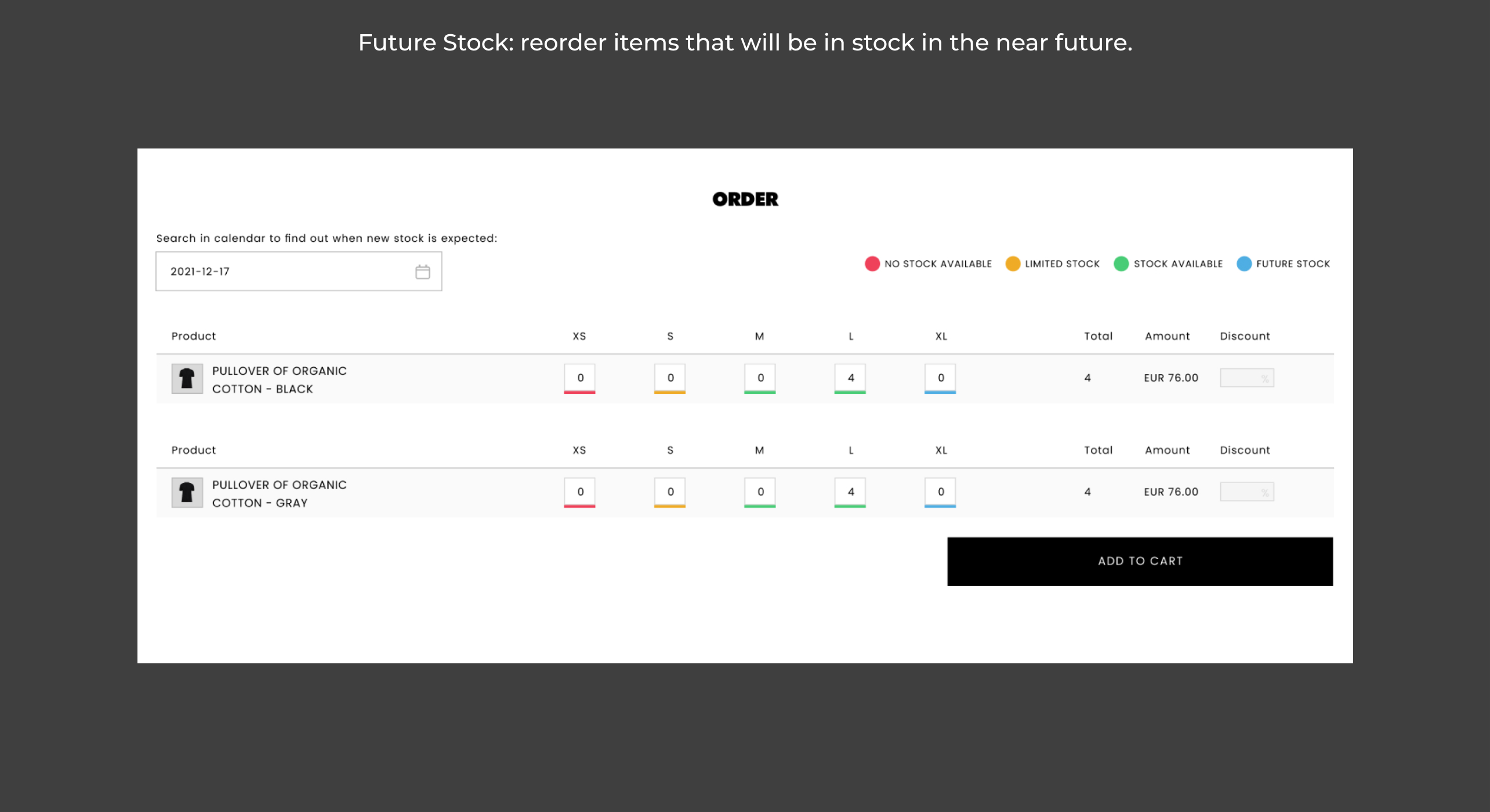 The Order Content Center allows you to check your order (line) status any time, anywhere and find out if it's open, in backorder, on its way including a tracking link, or already delivered. This product information comes directly from your ERP.
Rule #6. Content Is Key
When buying digitally, it's essential to gather all the information you can possibly get from a screen. This principle applies just as much to B2B sales as it does for B2C. That is why content is key and goes way beyond product imagery alone.
Colect's Lookbook is all about content to immerse your client into the world of your collection. In order to create an immersive digital experience, make sure you have attractive product images as well as excellent model photography in an atmospheric context.
You can add a little extra by including videos or 3D images or important product details such as fabric composition or origin details. Storyboards allow you to show what your brand is all about and offer marketing support.
Another great feature is the Assets Library containing all relevant brand and product information like videos, lookbooks in PDF, merchandise instructions and shop-in-shop concepts. Here you can also include additional packshots, product features via icons for sustainability indications, express delivery or washing instructions. All of this additional content is available for your retailers to download via the Order Content Center.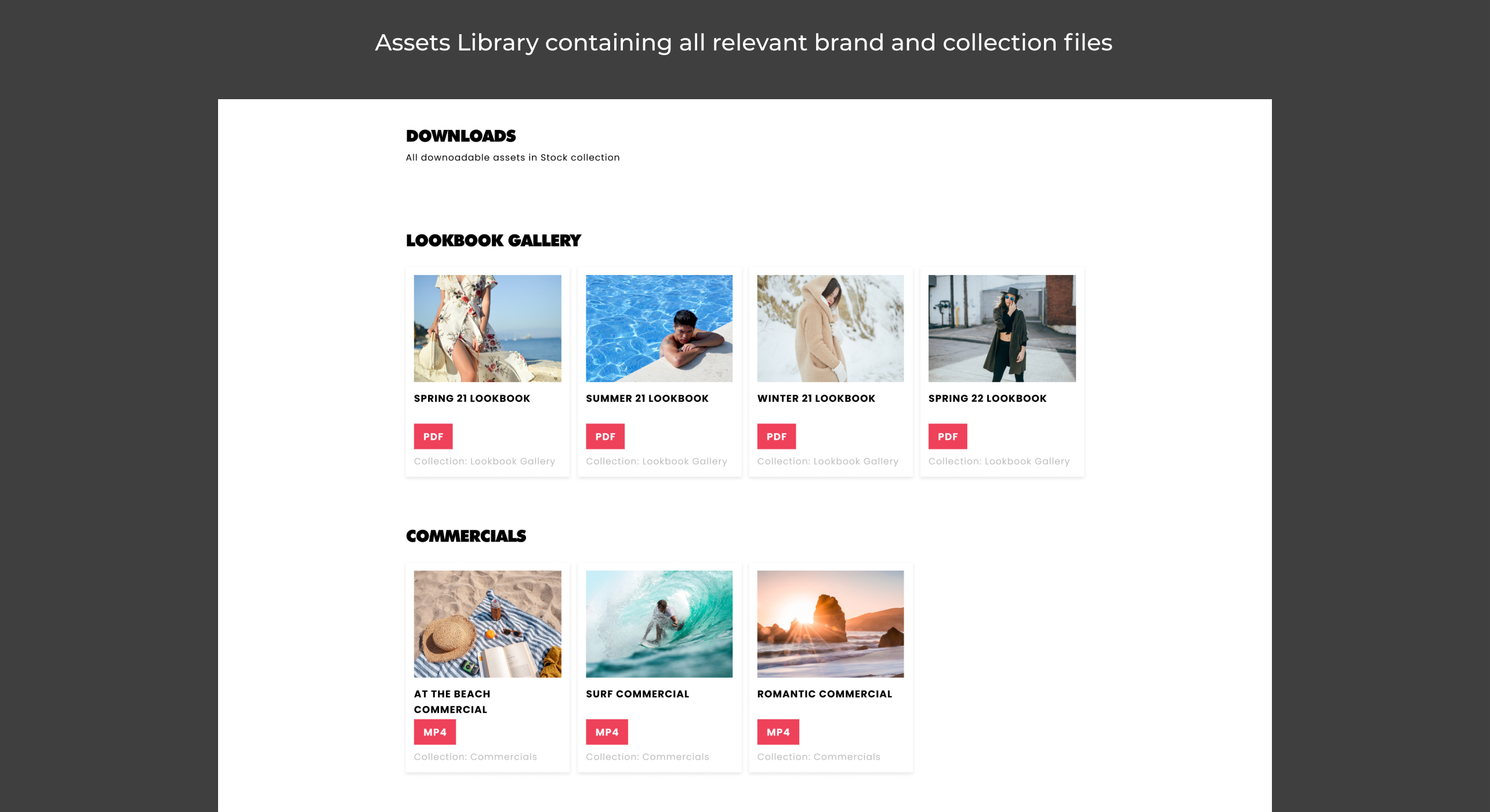 On top of content related to your collections, there is another type of content you should consider: data. This type of content enables your client to operate (partially) self-serviced and will unburden your back-office. Examples of this type of content are sales data, historical order insights, digital assets and FAQs.
How To Apply & Where To Start
Now that you have an idea of the most common business rules in B2B sales, you may wonder how to apply them and where to start.
Every brand is different of course, but first making sure the basic functionalities are in order and then adding to it with extra features and ingenious details is usually the way to go.
Need help in making a digital transition or looking to take your digital game to the next level to increase sales? At Colect we would love to think along and advise you where needed.
If you want to expand your knowledge on what Colect does to support wholesale digitalization, download our free material here.